Installation
Air conditioning replacement is a big decision. But if it's a choice between comfort or summer heat and humidity, then 72 Degrees Heating and Cooling is your go-to HVAC Cleveland installer. Our skilled technicians can help you decide on the best brand and system to address your home's needs.
Window units are known to be inefficient, but many homes rely on them. Up-to-date equipment and air conditioning replacement are key to making meaningful improvements in energy efficiency. If you're ready for an upgrade or are considering a replacement for an older system, get in touch with 72 Degrees, your local Cleveland heating and cooling experts. Interested in financing? Just ask us.
We will find the perfect solution for your cooling needs and guarantee a smooth installation process.
---
Repair
Cleveland summers are hot and humid – an effective air conditioning system is a must for optimal comfort and wellness. But after time your current HVAC system could show its age, and you might be looking for reliable AC repair in Cleveland.
72 Degrees Heating and Cooling is your local air conditioning replacement specialist, and we're ready to help. So if you're starting up your system and notice odd sounds or have increased energy bills, give us a call. We can walk you through air conditioner repair or replacement and help you find the best model for your home.
Our certified technicians offer reliable service, 24/7 emergency HVAC repair, and have experience repairing well-known brands like York, Lennox, and others. They are also great at troubleshooting, often saving you from a total replacement. Check out their tips to help you determine if you need AC repair:
If your air conditioner won't come on:
Ensure that a breaker is not tripped
Double check the thermostat, especially if it's located in a cooler spot in your home
If air flow is low or warmer than normal:
Be sure that the air filter is freshly changed
Run the fan on auto to thaw a potentially frozen coil
Ensure that the 'cool' and 'auto' thermostat settings are on
Check outside to be sure that debris isn't blocking air flow to the unit
Certain rooms are hot:
Check all windows to be sure they're closed
Look over the vents and make sure registers aren't blocked
If you've tried these quick fixes but you're still not getting a high enough flow or cool enough output, then it's time to call your Cleveland heating and cooling experts at 72 Degrees.
Tinmen Mechanical 72 Degrees® Air Conditioning and Heating can get your system back up and running in no time. We fix all types of problems, and our emergency service is available 24 hours a day. You shouldn't lose business or a night's sleep because of an HVAC issue, and with our help, that's not necessary. From Freon or AC Coil Leaks to Low Coolant to Broken Blower & Induction Motors, we give it our Fixed Right or It's Free Guarantee!
---
Maintenance
Hot Cleveland summers and frigid winters can wreak havoc on your HVAC system. For the best choice in air conditioning replacement and repair, 72 Degrees Heating and Cooling recommends a regular maintenance program. With our Service Club maintenance plan, skilled eyes are on your HVAC system multiple times per year. You also enjoy guaranteed appointments, discounts on repairs, and other valuable services. Service Club membership adds value to your home since it can be transferred to future owners should you someday decide to sell.
If you've seen a trend in increasing energy costs and reduced efficiency, give 72 Degrees a call. Planned maintenance allows our certified technicians to fine tune your HVAC system and detect issues before they get out of hand.

A modern HVAC system is an investment in your home's future. And preventive maintenance ensures that your hard-earned assets support your family's comfort for years to come. Our 82-point inspection and report verify your system's integrity and evaluate its performance. They also allow our team to offer repair and replacement options when the need arises.
With a knowledgeable hand regularly assessing your HVAC system, the need for major repairs naturally decreases. Since parts are kept in good condition with proper care, it's also likely that your HVAC system will end up lasting longer and performing optimally, as well as being safer to operate.
Reach out today and get in touch with 72 Degrees heating and cooling, your best resource for HVAC and AC repair in Cleveland!
---
Why Choose 72 Degrees?
72 Degrees Heating and Cooling is licensed and certified to perform all types of HVAC services. We specialize in air conditioner replacement, air conditioner repair, and emergency HVAC repair in Cleveland. We have over 30 years' experience installing well-known brands like York and Lennox, among others. And we proudly hire only the most qualified technicians.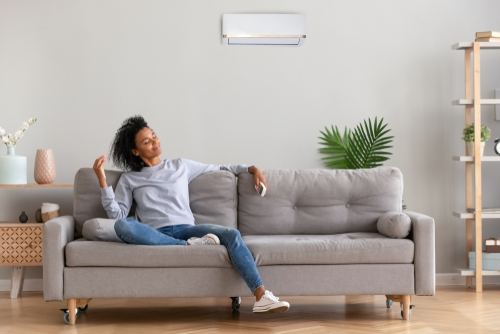 Open communication is vital to a job well done and you can count on the 72 Degrees team to include you in every step of the process. If your air conditioner needs emergency repair, we are available 24/7 to help keep your home safe and comfortable.
Besides all these benefits, we also offer our clients the opportunity to join our seasonal maintenance program and become a member of our Service Club. This customer perk ensures that your heating and cooling systems are in top form, all year long. You will also enjoy guaranteed appointments and discounts on repairs. For the best air conditioner repair in Cleveland, look no further. Give us a call today!